Amazon S3 Credentials from Environment Variables
You may use this storage type if you would like to load Amazon S3 credentials and session tokens from environment variables.

This could be useful in cases when you would like to obtain temporary credentials and session tokens and update environment variables on your own.

The following environment variables are used:

AWS_ACCESS_KEY_ID - holds Access Key ID
AWS_SECRET_ACCESS_KEY - holds Secret Access Key
AWS_SESSION_TOKEN - holds Session Token (optional)

These variables are fully compatible with official AWS Tools/CLI for Windows.

Variable values are cached for 3 seconds.
To load Access Keys from Environment Variables
1. Start S3 Browser and click Accounts -> Add New Account.

Click Accounts -> Add New Account

Add New Account dialog will open:

Add New Account dialog.

2. Select Amazon S3 (Credentials from Environment Variables)

3. Enable SSL/TLS option if you would like to work via encrypted SSL/TLS channel.

4. Click Add new account




You can now choose the newly added account from the accounts menu:

Click Accounts -> Account Name to switch between accounts.
S3 Browser 9.5.5 Freeware

People like S3 Browser!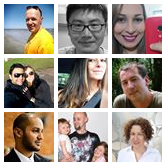 "S3 Browser is an invaluable tool to me as a web developer to easily manage my automated site backups" -Bob Kraft, Web Developer
"Just want to show my appreciation for a wonderful product. I use S3 Browser a lot, it is a great tool." -Gideon Kuijten, Pro User
"Thank You Thank You Thank You for this tool. A must have for anyone using S3!" -Brian Cummiskey, USA
"Amazon Web Services", "AWS", "Amazon S3", "Amazon Simple Storage Service", "Amazon CloudFront", "CloudFront", the "Powered by Amazon Web Services" logo are trademarks of Amazon.com, Inc. or its affiliates in the US and/or other countries.