Download
Pro Version
News
Help
Videos
Contact us
Follow:
Share:
Download S3 Browser
Size of file: 3.14 MB

For Windows XP/Vista/7/8/8.1/10 and Windows Server 2003/2008/2012/2016/2019



Download Instructions
Click the Download link.
When the File Download dialog box appears click the Run button.


Follow the prompts within the installer to complete the installation of S3 Browser.

Check out installation instructions for more detailed information.
S3 Browser 9.5.3 Freeware

People like S3 Browser!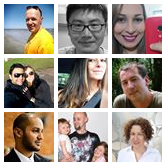 "S3 Browser is an invaluable tool to me as a web developer to easily manage my automated site backups" -Bob Kraft, Web Developer
"Just want to show my appreciation for a wonderful product. I use S3 Browser a lot, it is a great tool." -Gideon Kuijten, Pro User
"Thank You Thank You Thank You for this tool. A must have for anyone using S3!" -Brian Cummiskey, USA
"Amazon Web Services", "AWS", "Amazon S3", "Amazon Simple Storage Service", "Amazon CloudFront", "CloudFront", the "Powered by Amazon Web Services" logo are trademarks of Amazon.com, Inc. or its affiliates in the US and/or other countries.