How preview files from S3 Browser interface.
Starting from version 2.5.5 S3 Browser Freeware has a new Preview feature that allows you to preview some types of files right from the S3 Browser's interface.

Currently three basic file formats are supported:

plain text files (text viewer)
images (image viewer with auto-resize)
all other files (hex viewer)

S3 Browser uses it's own file-type detection algorithm which doesn't depend on file extension or mime type.

Currently there is limitation on max file size - 10 Mb.

To show file preview:

Start S3 Browser, select the Bucket and File.
Open Preview tab.

You can also copy html code for images as well as web url and dimensions. This features are available through the context menu.

S3 Browser Preview feature. Image viewer with auto-resize.

S3 Browser Preview feature. Plain text viewer. For text files.

S3 Browser Preview feature. Simple hex viewer for binary files.
S3 Browser 9.5.5 Freeware

People like S3 Browser!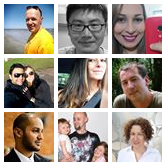 "S3 Browser is an invaluable tool to me as a web developer to easily manage my automated site backups" -Bob Kraft, Web Developer
"Just want to show my appreciation for a wonderful product. I use S3 Browser a lot, it is a great tool." -Gideon Kuijten, Pro User
"Thank You Thank You Thank You for this tool. A must have for anyone using S3!" -Brian Cummiskey, USA
"Amazon Web Services", "AWS", "Amazon S3", "Amazon Simple Storage Service", "Amazon CloudFront", "CloudFront", the "Powered by Amazon Web Services" logo are trademarks of Amazon.com, Inc. or its affiliates in the US and/or other countries.