How to Connect to Amazon S3-Compatible Storages
Amazon S3 API becoming a de facto standard interface for cloud storages and many hosting providers allow you to connect to their storages using s3-compatible APIs. Some examples are: Dreamhost, HostEurope, Dunkel Storage, Eucalyptus/Walrus as well as many others.

With S3 Browser you can easily connect to these s3-compatible storages with minimal configuration.

In order to connect to s3-compatible storage you need the following details:

Access Key Id - also known as a username.
Secret Access Key - also known as a password.
REST Endpoint (an API endpoint) - an address used to send requests to, it is usually provided with the username and password, it can also be found in storage documentation or obtained from the support.

To connect to s3-compatible storage:

1. Start S3 Browser and click Accounts -> Add New Account.

Click Accounts -> Add New Account to add new account.

Add New Amazon S3 Account dialog will appear:

Add New Amazon S3 Account dialog.

2. Choose S3 Compatible Storage as a storage type and specify account credentials and REST endpoint and click Add new account.

3. Choose the newly added account from the accounts menu:

Click Accounts -> Account Name to switch between accounts.
S3 Browser 7.1.5 Freeware

People like S3 Browser!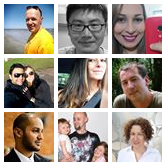 "S3 Browser is an invaluable tool to me as a web developer to easily manage my automated site backups" -Bob Kraft, Web Developer
"Just want to show my appreciation for a wonderful product. I use S3 Browser a lot, it is a great tool." -Gideon Kuijten, Pro User
"Thank You Thank You Thank You for this tool. A must have for anyone using S3!" -Brian Cummiskey, USA
"Amazon Web Services", "AWS", "Amazon S3", "Amazon Simple Storage Service", "Amazon CloudFront", "CloudFront", the "Powered by Amazon Web Services" logo are trademarks of Amazon.com, Inc. or its affiliates in the US and/or other countries.