Working with Amazon CloudFront
Since version 3.4.7 S3 Browser Freeware comes with an easy to use CloudFront Manager that allows you to perform various operations on your Cloudfront Distributions: create new distributions, edit existing distributions, delete one or multiple distributions, invalidate files, folders or an entire distribution.

Below we will describe the basic functionality of CloudFront Manager. Use the links above to get more information on particular operations.

To open CloudFront Manager click Tools -> CloudFront Manager

Click Tools, CloudFront Manager

CloudFront Manager dialog will open

CloudFront Management Tool - Main Window (Click on image to view full size).

The CloudFront Manager window is divided into two parts:

The top part is the list of distributions
The bottom part shows the properties of selected distribution
CloudFront Manager Toolbar
There is also a toolbar at the bottom of the window:

CloudFront Manager toolbar contains shortcuts to the most frequently used actions.

It contains buttons which act as shortcuts to the most frequently used actions:
CloudFront Manager Context Menu
Context menu contains shortcuts for some additional commands.

Additional commands are available in the context menu.

Enable selected distributions
Disable selected distributions
S3 Browser 9.5.5 Freeware

People like S3 Browser!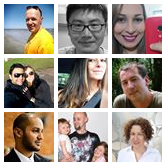 "S3 Browser is an invaluable tool to me as a web developer to easily manage my automated site backups" -Bob Kraft, Web Developer
"Just want to show my appreciation for a wonderful product. I use S3 Browser a lot, it is a great tool." -Gideon Kuijten, Pro User
"Thank You Thank You Thank You for this tool. A must have for anyone using S3!" -Brian Cummiskey, USA
"Amazon Web Services", "AWS", "Amazon S3", "Amazon Simple Storage Service", "Amazon CloudFront", "CloudFront", the "Powered by Amazon Web Services" logo are trademarks of Amazon.com, Inc. or its affiliates in the US and/or other countries.