S3 Browser - First Run
In this tutorial we assume that you have signed up for Amazon S3 and downloaded and installed S3 Browser.

When you start S3 Browser for the first time, you will be asked to add new Account:

Add New Account dialog.

2. Fill out the following fields:

Account Name - You can assign any name to your Account.
Account Type - S3 Browser supports multiple account types, choose the storage you want to work with. The following storages are supported for now:
Access Key ID and Secret Access Key - Access Keys are used to sign the requests you send to Amazon S3. If you need help in retrieving your Access Keys, please check out the following article: AWS Access Keys .
Encrypt Access Keys with a password - Turn this option on if you want to protect your Access Key ID and Secret Access Key with a master password. You will be asked for a master password each time you start S3 Browser.
Use secure transfer (SSL/TLS) - Turn this option on if you would like to encrypt all communications with the storage.

3. Click Add new account.

Now you are ready to start working with S3 Browser.

All files on S3 are stored in top-level containers called a 'buckets'. You need to create at least one bucket before uploading files to Amazon S3. Click here to learn how to create an Amazon S3 Bucket. Use this link to learn more about Amazon S3 Buckets.

Once you have created a new bucket, you can create new folders to organize your files, and upload and download files to and from Amazon S3.
S3 Browser 11.1.5 Freeware

People like S3 Browser!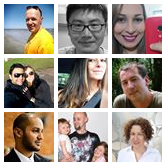 "S3 Browser is an invaluable tool to me as a web developer to easily manage my automated site backups" -Bob Kraft, Web Developer
"Just want to show my appreciation for a wonderful product. I use S3 Browser a lot, it is a great tool." -Gideon Kuijten, Pro User
"Thank You Thank You Thank You for this tool. A must have for anyone using S3!" -Brian Cummiskey, USA
"Amazon Web Services", "AWS", "Amazon S3", "Amazon Simple Storage Service", "Amazon CloudFront", "CloudFront", the "Powered by Amazon Web Services" logo are trademarks of Amazon.com, Inc. or its affiliates in the US and/or other countries.